Design and Fashion
Adele Zhang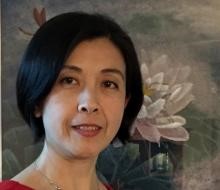 Department of Design
Adele Zhang received her B.S. in Industrial Design with a specialization in Apparel Design and worked in the fashion industry and textile trading business for years before she moved to California for her M.F.A. in Textile Arts & Costume Design at UC Davis.
She joined the faculty team of the Department of Design in 2006. Throughout the past decade, she has taught a wide range of fashion courses from Introduction to Structural Design for Fashion to the capstone class, Signature Collection – Senior Fashion Show. With her multicultural background and expertise in fashion design and business practice, Adele is making links between wearable product design and its real world application, where actuality and innovation are both being challenged. 
Adele also serves as the curator for the UC Davis Jo Ann C. Satbb Design Collection. She advocates human centered research and a practical approach to design in both her teaching and curating activities. Partnering with the UC Davis Women's Cardiovascular Medicine Program, Adele has guided fashion design students to create the UC Davis Red Dress Collection for Women's Heart Health Campaign since 2010. By bringing this lively project into her classroom and expanding the Design Collection, Adele inspires her students to design with creative thinking, hands-on making, and human interaction.
A Message to Students and Parents 
The rapid development of globalization, made possible by the lastest technologies, has advanced design practice with a wide range of employment and business opportunities around the world. Participating in this Design and Fashion internship program can not only further develop the skills that you have learned in the classroom, but also will broaden your views in cultural understanding and personal growth. This program will test drive your determination in this career path in an intercultural and interpersonal environment. It is an extraordinary opportunity for you to gain real-world experience, build self-confidence, and expand your professional network before entering the job market prior to graduation. Field internships fortify the competitiveness for fresh out-of-college designers since most design positions require work experience. Don't miss this opportunity."