Global Learning Conference — 

Preparing for Your Global Future in an Evolving World
When

:  April 2, 2022 (Time TBD)

Where

:  UC Davis International Center

Cost

:  TBD

Registration

:  Registration for the conference will be open in January 2022
Your global perspectives are valuable in today's interconnected and rapidly evolving world. Come learn to articulate and market those skills in your career search while advancing your personal and professional goals. This conference will provide opportunities to network with potential employers, showcase your experience in your resume and cover letter, hear from seasoned professionals in a variety of fields, connect with like-minded peers, and explore resources and opportunities for your future.
Hosted by the UC Davis Global Learning Hub, the Global Learning Conference is for undergraduate, graduate, and professional students who: 
have experience navigating intercultural spaces;

have studied, 

researched,

or interned abroad;

have global experiences on campus or in the U.S.;

are international students;

are first-generation college students;

are passionate about solving global challenges.
Questions:  Email globallearningconference@ucdavis.edu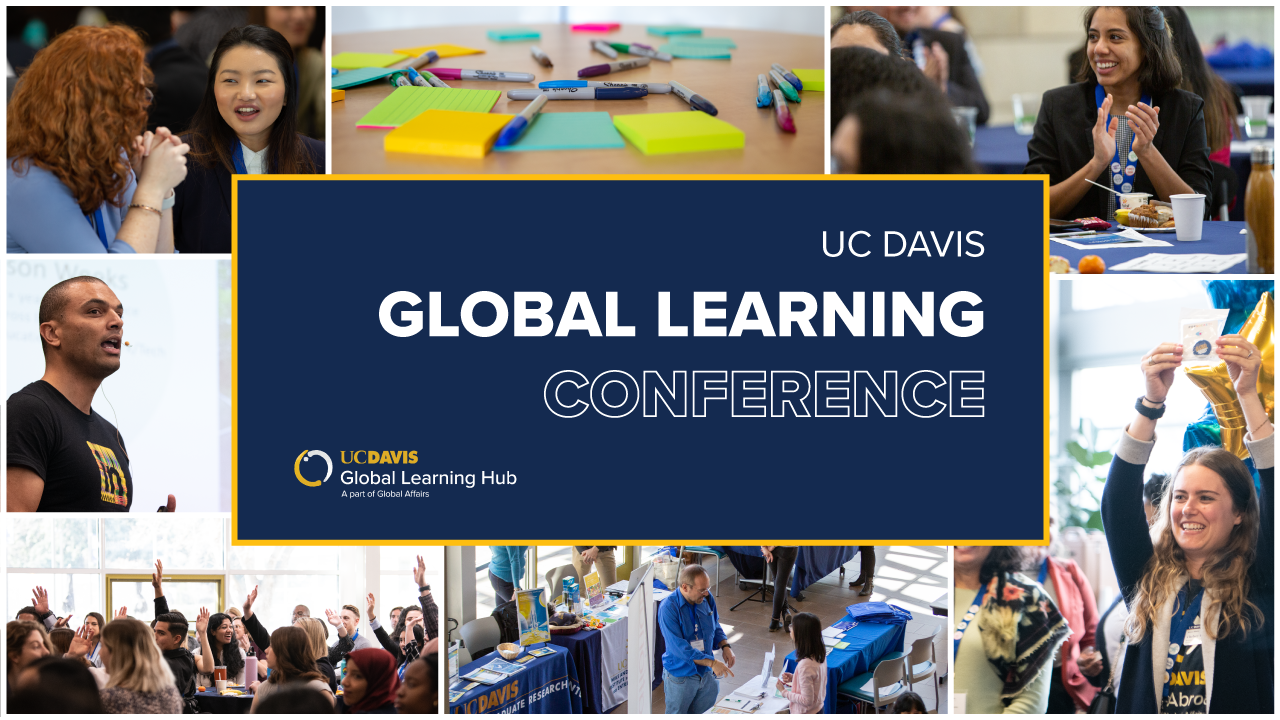 2021 Conference Schedule – For Reference Only
The schedule below is from last year; 2022 schedule will be updated in January. The 2022 conference will be one day only. Click the linked titles for session descriptions and presenter bios.
Friday, April 23 (afternoon & evening): 
Saturday, April 24 (morning & afternoon):
Sunday, April 25 (morning & afternoon):
What Conference Attendees are Saying About the Global Learning Conference
"I loved the opportunity to interact with students…and overall network with amazing individuals."

"I feel more prepared and confident in how to handle job applications."

"Angela [keynote speaker] is an inspiration and her story really reached me. I felt like I could really relate with what she was saying, and I hope to stay connected with her. Her speech seemed to really match my current place in the world and has helped me feel more confident and clear in what I want to do."

"The advice from the [global professional] guests during lunch really helped me solve what I could do next."

"The most helpful part of the conference for me was learning about the variety of [post-graduation] opportunities for working abroad other than just teaching English."

"Having the speaker directly from LinkedIn was helpful for me to understand how to actually use the site." 

"The writing and pitch workshops taught me at least 5 new things that I want to do now!"
Questions?
If you have questions about the Global Learning Conference email globallearningconference@ucdavis.edu.