Business and Communication
Ken Andersen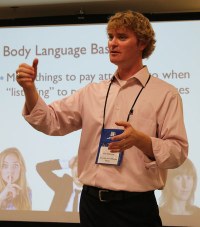 University Writing Program (UWP)
Ken is a continuing lecturer in the University Writing Program where he teaches a variety of upper-division courses while also serving as the program's assistant director for Business Writing. He is the chairperson of the Association for Business Communication Undergraduate Studies Committee and a member of both the Society of Professional Journalists and the Association for Education in Journalism and Mass Communication.
In his spare time, Ken enjoys biking, boating, and traveling with his wife, daughter, and son. He's an avid SCUBA diver, fly fisher-person, birder, and photographer; a burrito connoisseur; and an accomplished writer of third-person personal biographies.
A Message to Students and Parents
"Before graduate school, I spent years working in the travel and tourism industry, which opened my eyes to the value of travel. And I can say from experience that international travel makes a person more complete. When we step out of our own culture and immerse ourselves in another, we learn to think and behave in ways that are meaningful and worthwhile on a global level, and we're able to better understand the perspectives of others.
I seized the opportunity to develop and teach the international Business and Communication Internships courses for a number of reasons. For one, I believe the combination of professional and cultural experiences students can have overseas has the potential to positively impact all aspects of their professional futures. In addition, such international internships will inevitably look terrific on students' résumés. And lastly, the intercultural experiences students have there will last a lifetime, and they'll be able to draw on those experiences in a wide range of professional and personal situations throughout that lifetime."