Psychology Internships in Spain
Shelley Blozis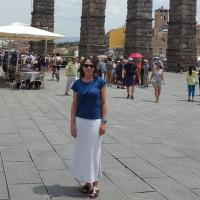 Psychology Department
Dr. Blozis is a Professor of Psychology at UC Davis and teaches and conducts research on statistical methods for of psychological data. Complementing her methodological work, she partners with researchers across different areas of psychology and related disciplines. Passionate about travel and bringing global learning into the classroom, she teaches the Psychology Internships in New Zealand, Spain, and the UK.
A Message to Students and Parents
I have been on the UC Davis faculty for 20 years, engaging in teaching and research in quantitative psychology and psychometrics. One benefit to this area of scholarship is that I've been able to pursue multicultural research and collaborate with researchers in different countries, bringing this work directly into the classroom. The summer internship abroad program in psychology gives students many opportunities to apply their educational training in the social and behavioral sciences in the context of a different culture. These opportunities offer students a unique perspective that is simply not possible for internships within the U.S.

I am so enthusiastic about traveling, both domestically (I've traveled in nearly every state within the U.S.) and internationally (Paris, Spain (Madrid, León, Málaga, A Coruña, Santiago de Compostela, Toledo, Córdoba, Seville, Salamanca, Granada, Bilbao, Aviles, Oviedo, San Sabastian, Santander, Burgos, …), Portugal (Porto, Coimbra, Aveiro, Guimaraes), Germany (Berlin, Frankfurt, Heidelberg), Canada (Vancouver, Burnaby, Montreal), and Mexico). Traveling opens us up to global awareness and to see ourselves in a world community. Having an opportunity for an internship or service-learning experience in a different country will undoubtedly bring about a different perspective, both about your educational training and yourself personally."