With so many internship opportunities out there, it can be difficult to decide whether interning abroad is right for you. This resource will help you understand the benefits and challenges of a global internship, reflect and set realistic internship goals, learn about work culture abroad, and explore options and resources available through the UC Davis Global Learning Hub. 
Benefits and Challenges of a Global Internship
Global internships provide you with a unique opportunity to navigate another country or culture while gaining hands-on work experience. This includes numerous benefits that can have a lasting impact on your future and career: 
Receive an introduction to the working world through crafting a resume and cover letter, interviewing with potential employers, and going through the hiring process.
Learn transferable skills valued by employers in today's global economy like adaptability, problem-solving, and intercultural communication.  
Gain a competitive edge in the job market by demonstrating your ability to work professionally in another country.  
Build your global network by making new social and professional connections abroad.
Enhance your cultural awareness and understanding while building your confidence and learning about yourself.
That said, interning abroad does not come without its own complications. While a global internship can ultimately bring personal and professional growth, you may need to overcome some hurdles along the way:
Adapting to a new country and environment can be a real shock to the system, at least as first. A global internship may be your first time away from friends and family in a new country, where the language, food, customs, weather, and many other factors may be very different from home.
Entering a new work culture when you may have limited work experience can be difficult, as you will need to learn about different workplace norms and how to navigate work relationships.

Internships not living up to every expectation

can be another potential challenge to face. Just as with regular jobs, internships may help you achieve your goals in certain ways, but not in other ways. Learning to accept that no internship can meet all your expectations is a difficult but important lesson that can serve you well in your future career.
Work Culture Abroad
Whether this is your first internship/job or you have held multiple positions in the past, it is important to recognize that there are major differences in business communication styles that vary by city, region and country. Global internships have an additional cultural component, which can be both exciting and challenging. 
In general, people in the US are more explicit and direct in their communication, are comfortable sharing their opinions (even with their superiors), and like things to be explained in a linear fashion. On the other hand, there are cultures where conflict is avoided, non-verbal cues and indirect communication are the norm and a high value is placed on formality and seniority.  
Recognizing that differences exist is the first step toward successfully navigating different cultures and honing your cross-cultural communication skills. In any professional setting, especially during a global internship, be observant, flexible, forgiving, and practice cultural humility.     
Reflect on and Identify Your Skills and Goals
Before deciding on an internship, it is important to take stock of your skills and qualifications and think realistically about how these will translate into an internship. In order to obtain an internship, there should be at least some overlap between what an employer is looking for and what you have to offer.. Use the worksheet below to help identify your skills and target the right internship. Make sure to keep these in mind as you research available programs.
We also encourage you to connect with your major advisor, a Global Learning Hub advisor, and/or a career advisor at the Internship and Career Center for additional guidance.
Participating in a UC Davis Summer Abroad Internships
Taking part in a UC Davis Summer Abroad Internship provides several advantages over seeking a global internship on your own:
Personalized Internship Placement

 – UC Davis and the internship provider will make their best efforts to place you in an internship in your desired field based on your skills and background.
Internships for Academic Credit
Did you know that all UC Davis majors and minors have 92/192 units which are internship units that can count toward graduation? Many departments also have an academic internship requirement and offer internship units for your major or minor. Check out the List of Majors and Minors that Require Internships (PDF).
The most updated degree requirements can be found on the online course catalog and on your department page.
Transcript Notation
All internships over 40 hours per quarter can qualify for Transcript Notation to officially document your participation in an internship or research project. Transcript notation includes the internship title, organization, and the specific quarter(s) on the comments section of your transcript. Students are eligible for Transcript Notation whether or not they are completing an internship for academic credit. Learn more at the Internship and Career Center.
Financial Aid – If you are eligible for financial aid, it can be used towards all UC Davis Summer Abroad Internship programs. Learn more about financial aid and scholarships.

Additional Support

 – A variety of support staff are available throughout the process—including while you are abroad. These staff include Global Learning Hub Staff, the program instructor, your on-site supervisor, and on-site support staff.
Additional Resources
Explore Global Internship Opportunities
Goin' Global
Interested in learning what it is like to live and work in different countries or cities around the world?
Check out the resources from GoinGlobal. This is an exclusive benefit to UC Davis students (and non-UC Davis students who enroll in a UC Davis Summer Internship Abroad).
Log in to GoinGlobal with your Kerberos to access location-specific resources.

Find 'Career Guides' and select 'Country Career Guides' or 'Global City Career Guides'.

Choose a country or city of interest.

On the country/city page under 'Living There', you will find many useful topics including work culture and business practices.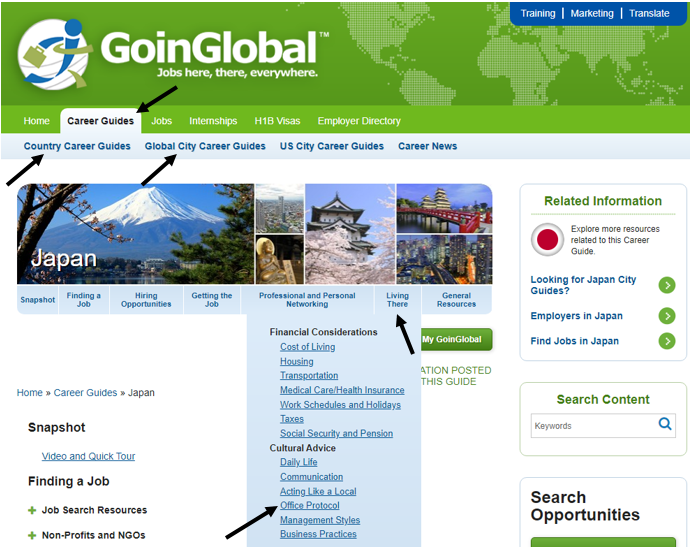 Have additional questions? Contact globallearning@ucdavis.edu.