Public Health and Rural/Urban Medicine
Theresa Walsh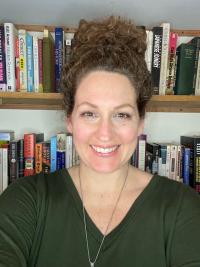 University Writing Program 
Theresa is a Continuing Lecturer in the University Writing Program where she teaches a variety of upper-and lower-division writing courses, most often Writing in the Health Professions and Advanced Composition. Throughout her time in the UWP, she has served as the Professional Development Coordinator and Assistant Director for Online Writing Instruction.
Beyond the UWP, Theresa is pursuing a PhD through Texas Tech University. Her research is centered on teaching cultural humility, cultural safety and structural competence to rising healthcare professionals through an examination of how people communicate health issues through performance.
Beyond work and research, Theresa likes to journal, is trying to learn how to make pretty things out of clay, and enjoys walking and exploring the the central valley and north coast with her son and husband.
A Message to Students and Parents
I am excited to offer a 198 course that is designed to help students record their work in a way that will not only engage them as learners throughout their internship, but also document their experiences in such a way that students will return to their writing for years and recall their experiences in vivid detail.

Teaching the personal statement to future healthcare professionals over the past several years, I have seen the profound effect the Global Health Internships Abroad have on students' academic growth and professional development. Students who have interned abroad have stories to tell that people want to hear. Through the writing in this course, you will communicate what you learn as a global studies intern, and that learning is invaluable to your future profession and the people you will serve.

I look forward to learning with you throughout the internship program!"